Curated by Joachim Baur
CONFISCATED: Rolf Heißler
Objects from the Prison
Curated by Joachim Baur

Opening: Friday, October 26, 2007, from 7pm

Exhibition: October 27 – November 17, 2007
open Thu, Fr, Sa 3 – 7pm and by appointment +49 (0)179 947 30 40

Sunday October, 28 – 6 pm conversation with Rolf Heißler
Thursday November, 1 – 7 pm conversation with curator Joachim Baur
(in cooperation with "Schnittpunkt Berlin" – exhibition theory & practice)
Rolf Heißler was a member of the German guerilla group, the Red Army Faction – RAF. During his 22 years imprisonment from 1979-2001 his mail was monitored and about 2000 mails confiscated. Using examples of these objects, this exhibition focuses on the struggle for control, for communication between 'in' and 'out', and the diverse projections under the conditions of isolation. The show throws an unusual – at least an uncommon – glance at the long history of confrontation between the RAF, the state and the political movement.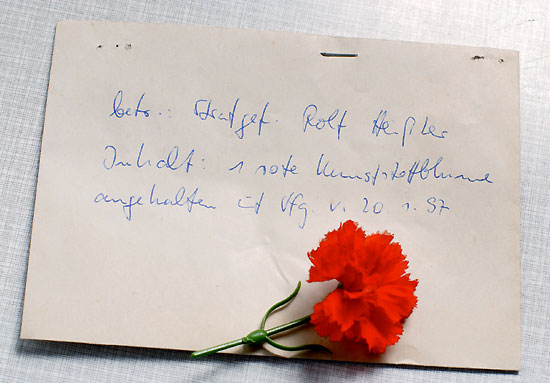 A red plastic clove, dried orange peel, countless pamphlets, mussels, dried flowers, sparklers, newspaper cuttings, posters, postcards, socks, a kid's drawing, lavender… the most different things were sent to Rolf Heißler during his 22 years in prison but they all had one thing in common: confiscation. At first glance many items seem unimpressive, you might wonder, 'Why was this sent' or, 'Why was it withheld'?
At second glance the conditions of isolation and solitary confinment can be discerned, as can the attempts to break through this closed circuit.
The objects are sediments of the prison regulations and visible witnesses of a panoptical / an omnipotent prison regime based on excluding sensual perceptions. They stand for persistent attemps to develop some sort of relationship and communication between 'in-' and 'outside'. They reveal manifold forms of projection – from the state declaring the most banal objects 'dangerous' to what the prisoner's acquaintances thought would best meet his needs.

Almost daily, they demonstrate a long-standing, constant struggle for control: from the authorities over 'law and order' in jail – from the prisoner over his life. Heißler's position as an acting subject within this conflict of censorship and confiscation is evident. Countless letters of complaint and a file listing and annotating all confiscations show his strategy of a 'control of the control'.
Last but not least appear in these withheld mails – like in a multiple broken mirror – the social and political movements of the 80's and 90's with their themes, discussions and activities: international solidarity movement, squatting, anti-fascism, anti-war- and feminist movements, protest against census and social inequality.
On unusual terrain these objects unfold a complex triangular relationship between state, social movement and a prisoner from the RAF.