Endre Aalrust
Opening Friday March 9, from 7pm

Exhibition: March 10 – April 7, 2007
Open Friday and Saturday 3-7pm or by appointment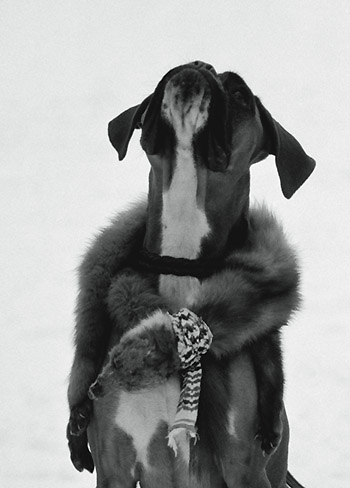 after the butcher is pleased to present Norwegian artist, Endre Aalrust, with a solo-show "As if there's always free cheese in the mousetrap…". Aalrust will be showing a new video piece, a series of large scale black & white photos, and sculptures made from class-related and symbolically-loaded materials.
In his work, Aalrust focuses on power structures and hierarchies and their influence on human interaction and relations. Working with a certain impurity in both content and form, invoking a mixture of high and low, slapstick and melodrama he investigates the struggle for being in a privileged position or getting the upper hand.
"The term 'Stockholm syndrome' was first used by Professor Nils Bejerot to explain the phenomenon of hostages bonding with their captors. In Stockholm, Sweden in 1973, two bank robbers held four people hostages for six days. The Norrmalmstorg Bank robbery received wide publicity because the hostages came to care about their captors and perceive them as protecting them against the police."
Paul T. P. Wong
Rather than merely examining external sources of power, Aalrust attempts to focus on how repressive structures are imposed and supported through the eager participation of the "victims" themselves: the mechanisms of internalization, the production and reproduction of unjust systems through the common admiration of hierarchies of language and values.
Endre Aalrust (b.1973) studied at the Bergen Academy of Fine Arts in Norway w/Prof. Stephan Dillemuth 1998-2002. Exhibitions and videoscreenings include – "The Fantasy of a Failed Utopia…" National Center of Contemporary Art, Moscow 2007, – "Try again, Fail again. Fail better", Momentum, Nordic Festival of Contemporary Art, Moss 2006, – "Obscure yourself", Galerie Pierogi 2000, Leipzig 2005, – "Diversitè: Some things can be taken to the bank" Galleri Signal, 2004 Malmö, – "Jetzt und zehn Jahre davor", Kunstwerke Berlin, 2004 – "Viper" Kunsthalle Basel, 2004 – "local connection" Künstlerhaus Bethanien 2004, Berlin.