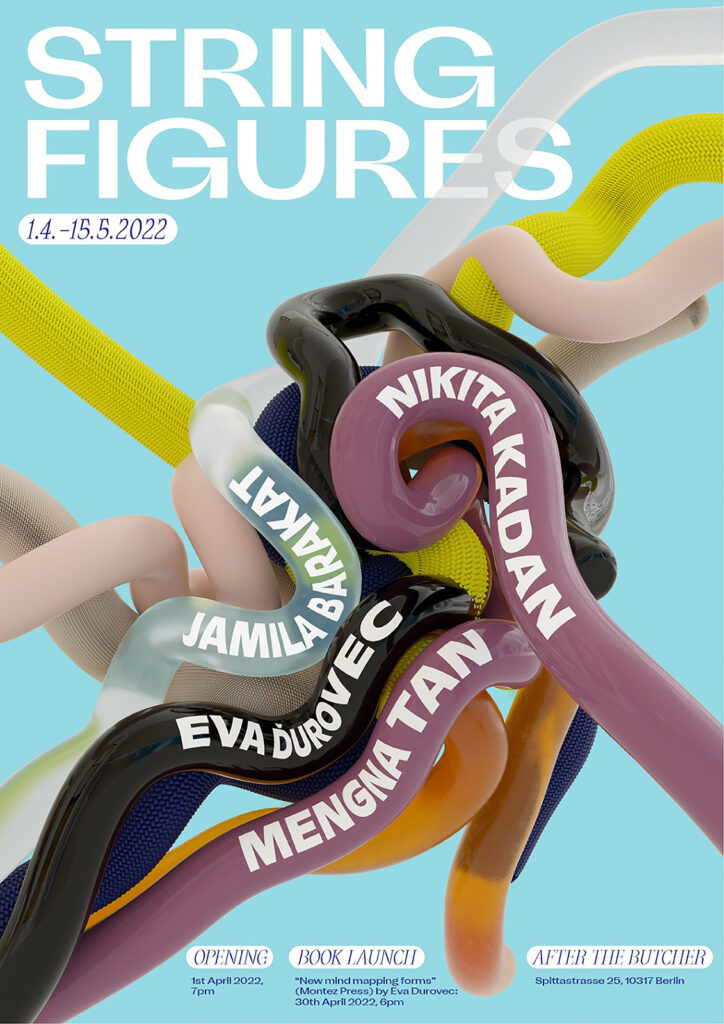 atb#90 – String Figures
Jamila Barakat, Mengna Tan, Eva Ďurovec and Nikita Kadan
Opening Friday, April 1, from 7 pm
Exhibition: April, 2 – May, 15 2022
Finissage: Sunday, May 15, from 3-6pm
Open by appointment: mailto@after-the-butcher.de or +49 178 3298 106
30 April, 6pm: Book Launch "New Mind Mapping Forms" by Eva Ďurovec

In the exhibition rooms, please keep your distance and wear mouth and nose masks.
After the Butcher, Showroom for Contemporary Art and Social Issues is happy to present its next exhibition "String Figures" with artists Jamila Barakat, Mengna Tan, Eva Ďurovec and Nikita Kadan.
In Donna Haraways "Staying With The Trouble", one figure is omnipresent: SF. This figuration seems to be more than just an abbreviation. It seems to be a subject that opens up different opportunities and methods, thought experiments and common practices of exchange and interaction. Cross-species practices that sometimes work, sometimes fail, are active and sometimes stay still.
Like string figures, they propose and enact patterns for participants to inhabit, somehow, on a vulnerable and wounded earth. Haraway describes the figure with the letters SF that can be: Science Fiction, speculative fabulation, string figures, speculative feminism, science fact, so far…
"I think of sf and string figures in a triple sense of figuring. First, promiscuously plucking out fibers in clotted and dense events and practices, I try to follow the threads where they lead in order to track them and find their tangles and patterns crucial for staying with the trouble in real and particular places and times."
D.H.
By playing string figures, new patterns or images are formed that reveal new entanglements and interconnections.
In the exhibition "String figures" the artists are tracing SF by working, failing and exploring themes and contexts of speculative feminism, speculative fabulation, science fiction and so far…
A dialogue with each other begins, connections with each other emerge. While we prepare this exhibition the Russian regime under Putin launched its war against Ukraine. For this reason we decided to pick up another thread: we invited the Ukrainian artist Nikita Kadan (he has to protect himself in Kiev against Russian bombing) to join the exhibition. We are happy to be able to show two of his wonderful charcoal drawings from the series "Minsk Masks" in String Figures*). In this respect, SF may also be read as a sign against war: stay friends or seid friedlich (be peaceful) instead of Strike Forces.
*) Nikita Kadan writes: "I found these 'masks' in ornaments on the ceiling of the Minska station of the Kyiv Metro since I was six years old. They were really scary, and I felt that I could always find new ones. The ornamental composition "Tree of Life", based on Belarusian folk ornaments, was created by the artists Stepan and Vasyl Khymochka in 1982, the year I was born. Much later I found out that Belarus was historically associated with a partisan movement – these associations can give new meaning to the camouflaged faces hidden among the floral motifs." These drawings are very topical in that metro stations such as Minska station in Kiev at the moment serve as shelters from Russian shelling and bombardment….
http://www.mirmetro.net/kyiv/cruise/02/11_minska