Antje Majewski, Maya Schweizer
Die Miniaturen aus Ravensbrück und der sterbende Soldat von Les Milles
Opening Friday,  October 24, 2014 at 7 pm
Exhibition 25. October 25 – November 29, 2014
open by Appointment on +49 178 3298106 or +49 178 3298107
Closing event: November 29 at 6 pm ab 18 Uhr, Screening at 8 pm
Zement, 2014, a short film by Bettina Nürnberg and Dirk Peuker
Übertragung, 2007, a film by Harun Farocki, Idea: Antje Ehmann
followed by a discussion.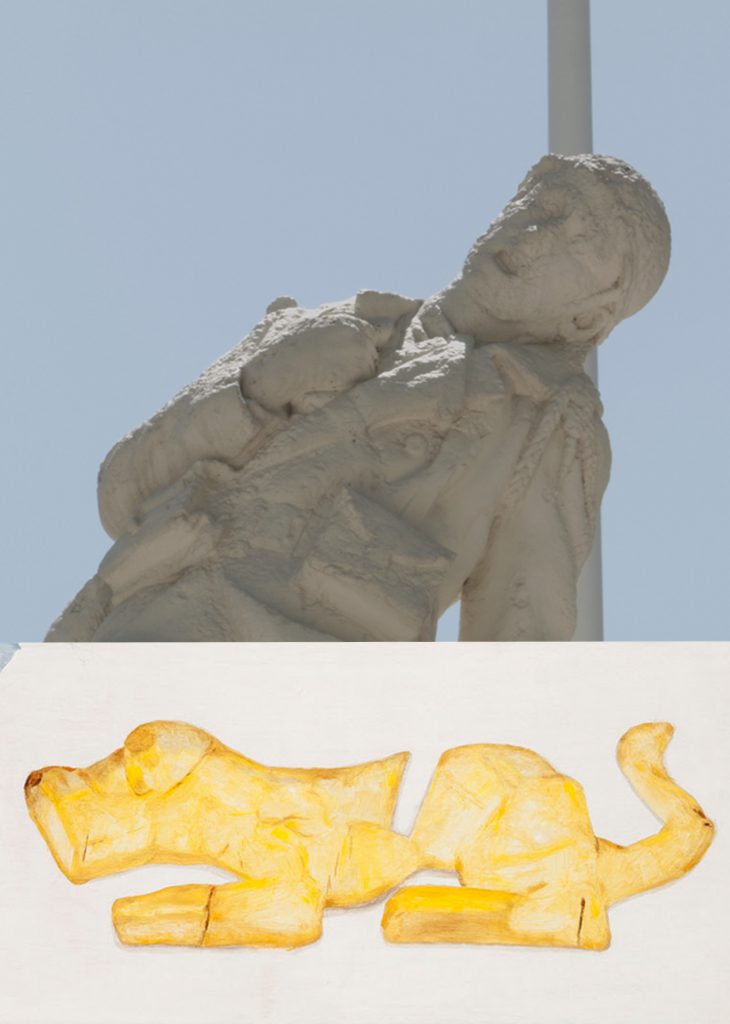 The Miniatures of Ravensbruck
In recent years, Antje Majewski's paintings and videos have questioned the social significance and use of objects, specifically in the context of museums. In 2013 she painted a series of works based on miniature objects from the collection of the Memorial Museum Ravensbrück. These miniatures had been made in secret by women of different nationalities during their time of imprisonment in the concentration camp Ravensbrück. Many of the miniature objects were carved out of plastic toothbrushes and show amongst others tiny animals or motives like clover leaves or horse shoes.
Half of the revenues of the paintings help to finance restauration work and 3D-scans of the original objects by the Memorial Museum Ravensbrück. The other half is donated to "STAY! Düsseldorfer Flüchtlingsinitiative", a NGO organisation that helps refugees who seek asylum in Germany.
www.antjemajewski.de, www.ravensbrueck.de, www.stay-duesseldorf.de
---
A MEMORIAL, A SYNAGOGUE, A BRIDGE AND A CHURCH
Maya Schweizer HD Video, 11 min, 2012
"In Maya Schweizers Video "A Memorial, A Synagogue, A Bridge and A Church" wird ein Platz zur Laborsituation, die Künstlerin zur minutiösen Beobachterin alltäglicher Verhältnisse. Wo sind wir? Der Ort ist der Fischplatz, Rybné námestie, in Bratislava. Dort steht "The Holocaust Monument", eine fünf Meter hohe Bronzestatue des slowakischen Künstlers Milan Lukáč. Sie wurde 1996/97 an der Stelle der alten Synagoge aufgestellt. Von der detailreichen Beobachtung der Materialien, aus denen die Skulptur und der Platz bestehen, führt Maya Schweizer den Betrachter filmisch um den Ort. Die merkwürdigen Überlagerungen der Epochen und deren Gestaltungsparameter an diesem Platz wären ohne die Zerstörungen des 2. Weltkrieges, aber auch ohne die Erfindung des Automobils, sicher völlig anders ausgefallen. Die Zeit nach 1945 wirkt hier exemplarisch wie ein Übergriff der Nachkriegsmoderne. Sie resultiert in einer nicht wiedergutzumachenden Versehrtheit, die seitdem diesen Ort beherrscht und jeden seiner Bestandteile, das Denkmal, die Synagoge, die Brücke und die Kirche, betrifft."
Brigitte Franzen