Ciara Phillips | Jean-Ulrick Désert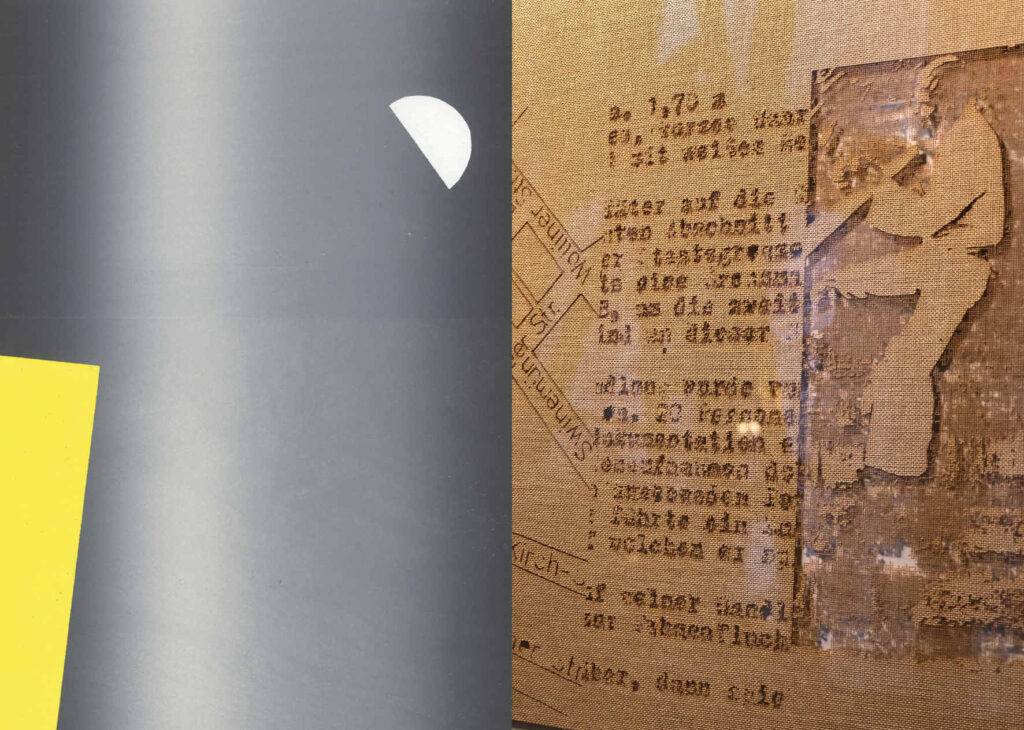 Palimpsest – Reading between the signs
Ciara Phillips | Jean-Ulrick Désert
Exhibition: November 27, 2021 – January 30, 2022
Opening: Friday November 26, 2021, 7-11 p.m.
Finissage: Sunday, January 30, 2022 from 3-6 p.m.

Viewing by appointment only: ina@after-the-butcher.de or mobile: +49(0)178-3298106
Social distancing measures must be observed in the gallery spaces and wearing a medical mask is compulsory.
The exhibition Palimpsest / Reading Between the Signs develops a visual dialogue between the works of Berlin-based Haitian-American artist Jean-Ulrick Désert and Glasgow-based Irish-Canadian artist Ciara Phillips.
Jean-Ulrick Désert takes up in his work, developed for this exhibition, a political action at the Berlin Wall from 1978 by the filmmaker Wieland Speck (1992-2017 Director of the Panorama of the Berlin Film Festival) and the artist Per Lüke, which immediately triggered a surveillance investigation file called "The Harpist" (Der Harfenspieler) by the GDR's State Security Police. For his installation Désert selected 12 sheets from the Stasi files, digitized them and burned them in linen to create 'modern ruins'. The data from this Stasi surveillance and Désert's research generated four astrological circular terracotta forms. They mark the star constellations and the astrological configurations taken from the 13 August 1978, 16:15, the day of the political action. Another disk marks the life span of the surveillance and yet another disk marks the collaborative dynamics of Per Lüke & Wieland Speck. Together with the picture panels they create a poetic palimpsest and a tension between personal and public, analogue and digital or physical and metaphysical realities.
For this exhibition, Ciara Phillips foregrounds clothing as a site of social engagement and meaning. Sewing has long been an artistic practice for Phillips, realized in parallel with her graphic print work. Printed textiles are often part of her complex spatial installations. Phillips explores the myriad ways in which print intersects with our daily lives, whether through media, advertising, banknotes, or clothing. Everywhere, print products act as important validators and signifiers. Phillips spent 4 weeks in residency at Lichtenberg Studios developing new works for this exhibition which draws on, among other things, the centuries- old history of textile and clothing manufacturing in Lichtenberg.

article about the exhibition at artlink
Ciara Phillips works mainly in print and her approach is both expansive and experimental. She often works collaboratively, transforming galleries into working printshops and inviting other artists, designers and local community groups to work with her. She has exhibited at: Tate Britain; Museum of Contemporary Art Australia; Benaki Museum, Athens; Hamburg Kunstverein; and Kunsthall Stavanger. In 2014 she was nominated for the Turner Prize, and in 2020 was awarded the Queen Sonja Print Award in Oslo.
Jean-Ulrick Désert works in different media: posters, actions, paintings, site-specific sculptures and video. In 2019 Jean-Ulrick Désert represented his native country Haiti at the 58th Venice Biennale in the same year he showed Unfinished Histories Vol.IV, at the Franziskanerkirche Monastery Ruins, Berlin. In 2013, Amour Colère Folie, Art Commission, Martinique Biennale, Martinique; 2015 Belgian Soliloquy, Platform 102, Brussels; Jean-Ulrick Désert, Espace d'art Contemporain 14°N 61°W, Martinique; 2018 Jean-Ulrick Désert, S12 Studio, Select World Project Gallery, New York. He was a participant in the 10th Havana Biennial, Cuba, in 2009. Désert founded his Berlin studio in 2002. www.jeanulrickdesert.com
Jean-Ulrick Désert is the first recipient of the Wi Di Mimba Wi :: AKB & SAVVY Contemporary Award: www.e-flux.com