Julia Lazarus, Taru Kallio, Icaro Zorbar
Opening Friday, March 2, 2018 at 7 pm
Exhibition March 3 – April 8, 2018
Closing event Sunday May 13, 2018 2-5 pm
open by Appointment on +49-(0)179-947 3040 or
+49-(0)179-636 979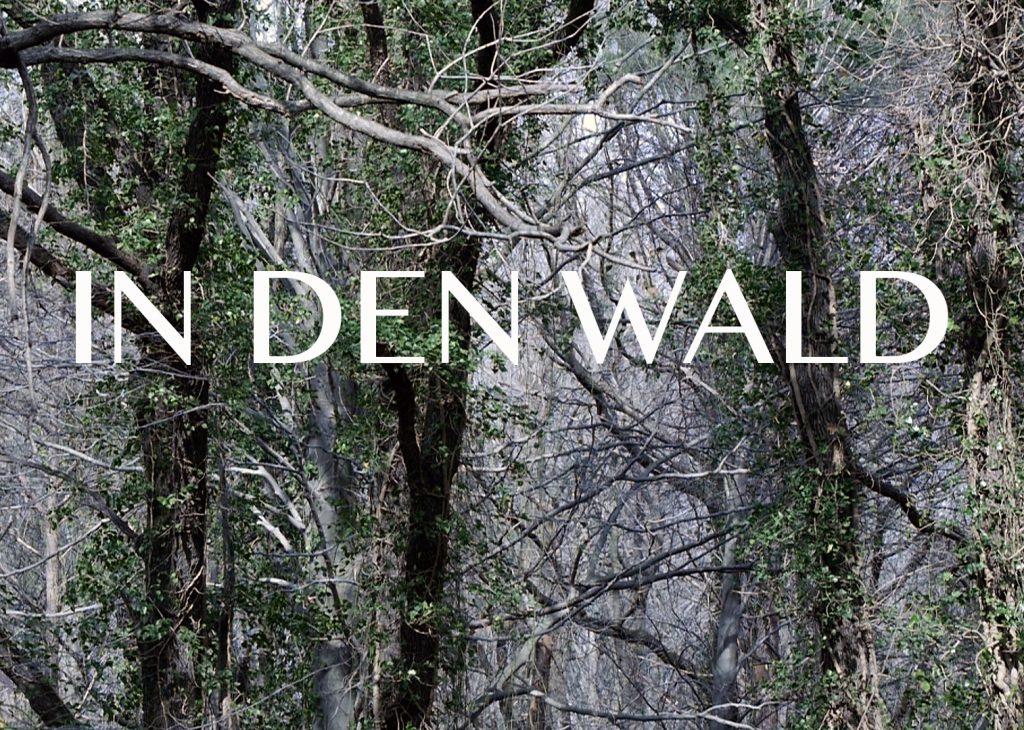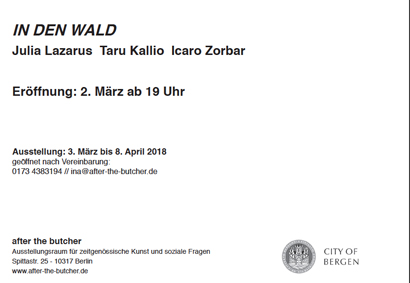 In the video installation After Nature, Julia Lazarus shows for the first time in Berlin scenes from her film made in Istanbul, for which she accompanied a group of dietary Turkish activists from Kuzey Ormanları Savunması(Northern Forest Defense) in their resistance to the gigantic infrastructure measures north of Istanbul on the coast of the Black Sea. Large-scale construction projects (such as the third bridge, the third airport, and the planned canal) are destroying a forest and water conservation area that has been under nature conservation for centuries and has so far provided the metropolis with water and fresh air. Lazarus' work questions the planned development, which will yield high profits for a few but whose social benefits remain in the dark. However, her film shots also tell of the contradiction of our concept of nature, which imagines nature as untouched wilderness, far away from our metropolitan life. A few weeks ago, Taru Kallio and Icaro Zorbar undertook a joint artistic research trip through the South American jungle. In the exhibition, they present new works based on the material they collected on this journey.
In her installation Searching for an animal with no-name, Taru Kallio also focuses on those moments in which it is not possible to establish a connection between man and nature, because man has become the most important factor influencing biological, geological and atmospheric processes on Earth. She works with drawings, paper, wood, PVC and LED lights. While the drawings refer to scientific illustrations of flora and fauna, the installation also processes mythical, religious and cultural narratives of humans, animals and the plant world.
During the journey Icaro Zorbar was interested in the perception of time and wondered what the feeling of home meant against the background of the possibility of being lost in the jungle. His installation Night bird's shadow consists of text and sound from which he spins a looped narrative, in which fictitious elements blend with facts and at the same time the connection between technology and memory is reflected.
Julia Lazarus (born 1971 in Germany) lives in Berlin. She studied at the University of the Arts in Berlin and at the California Institute of the Arts in Los Angeles, USA. Lazarus is an artist, curator and filmmaker. Her films are distributed by Sixpackfilm Vienna and e-flux, Berlin/New York. Selection of exhibitions: Depo, Istanbul, 2017; District, Berlin 2016; IG Bildende Kunst, Vienna 2014; Galerie Funke, Berlin 2012; Schwules Museum Berlin 2011; Manifesta Murcia 2010; NGBK Berlin 2007. www.julialazarus.com
Taru Kallio (born 1986 in Finland) currently lives in Berlin and Hamburg. Exhibitions: 'Materialization' Hordaland Kunstsenter, Bergen / Norway, 2017; 'Life Lessons' Galleri Fisk, Bergen / Norway, 2016; 'LUST' Galleria Jangva, Helsinki / Finland, 2014; 'Bläckfiskens hjärta' Kulturföreningen Tellus, Stockholm / Sweden, 2014; 'Nuoret 2011 Biennale', Taidehalli, Helsinki / Finland. http://tarukallio.tumblr.com/
Icaro Zorbar (born 1977 in Colombia) currently lives in Berlin and Hamburg. Exhibitions: 'Stay a while, a swan song. Osnabrück Kunsthalle / Germany, 2017; 'Floating Worlds.'14th Biennale de Lyon / France, 2017;'Nocturne, int-night.' Arroniz Gallery, Mexico city, Mexico, 2016; 'Preludes. VOLT projects.< Bergen / Norway, 2014; 'The Imminence of Poetics.' 30th Sao Paulo Biennial / Brazil, 2012 https://vimeo.com/icarozorbar