Marina Naprushkina, Holger Wüst
Opening Friday, January 30, 2015 at 7 pm
Exhibition January 31 – March 7, 2015
open by Appointment on +49 178 3298106 od. 107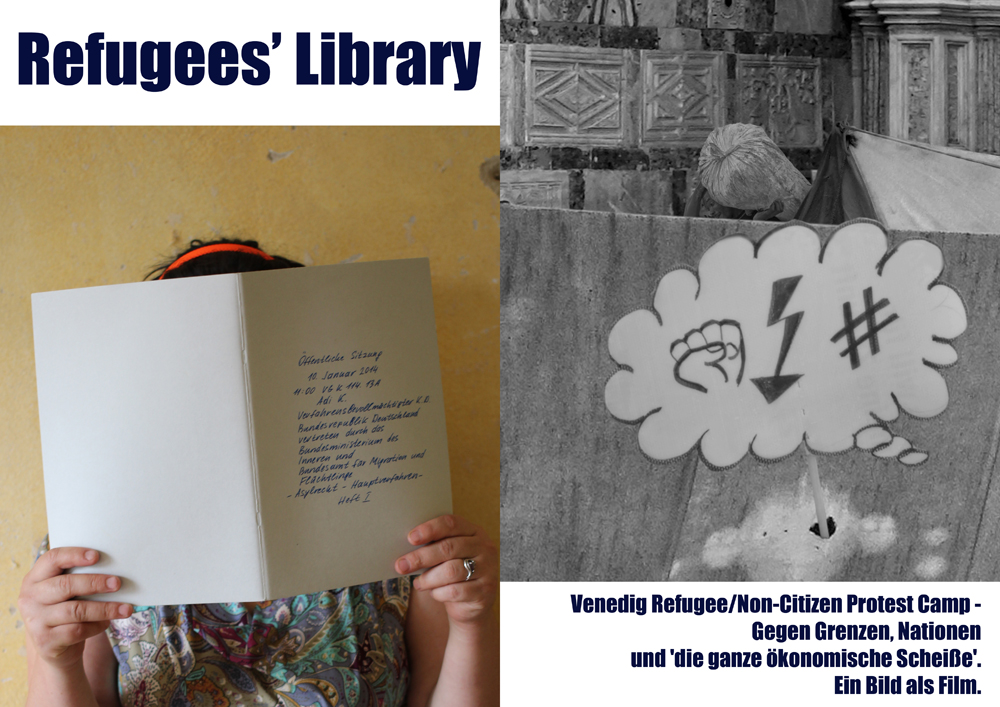 Refugees' Library
Marina Naprushkina (court drawings), freelance translators in seven languages: Tobias Weihmann, Nele Van den Berghe, Leaticia Kossligk, Markus Baathe, David Ey, Anna Toczyska, Charlotte Stromberg, Judith Geffert, Sara Dutch, Sarah Neis, Josie Nguessi, Anouk De Bast, Bojana Perišić, Elvira Veselinović, Ruth Altenhofer, Inara Gabdurakhmanova
Online archives: www.refugeeslibrary.wordpress.com
The booklets of the "Refugees' Library" (2013-2014) are a documentation of the judicial processes of refugees. The personal fates of the plaintiffs are used to depict worldwide conflicts and reasons for flight. "Refugees' Library" is a collaborative project. Several people are working on the translations of the court books into the languages of the refugees. The main intention of the project is to make the library available to refugees as an information tool to prepare them for their own processes.
Holger Wüst
Venedig Refugee/Non-Citizen Protest Camp –
Against borders, nations and all that economic shit.
A picture as a film.